If you've ever wondered what a virtual world where music actually is the "killer app" looks like, then I encourage you to try out Michael Nesmith's
VideoRanch3D
this weekend for the final days of the Global Zone Music Festival.
The Global Zone Music Festival is being brought to you live from the South by Southwest (SXSW) Conference in Austin Texas. From the SXSW site:
SXSW is pleased to announce that musician/visionary Michael Nesmith will be webcasting shows from Austin during SXSW. Nesmith's project,

VideoRanch 3D

, allows acts to perform for a global audience in VideoRanch's virtual venues and allows the audience to interact with each other and the performers. Check out the great line-up of shows

here

.
If the name
Michael Nesmith
rings a bell that's because he's an accomplished songwriter, musician, actor, novelist, philanthropist and oh yes, he was in fact the wool hat wearing member of The Monkees. Who better to develop a virtual world that's all about music and film?
The Global Zone Music Festival is attracting some top talent including one of my personal favorites, A Fine Frenzy on Sunday March 21st, at 10AM Central Time.
The entire schedule is
here
and although I was late posting this so we've missed some amazing performances, do not fret (haha, get it .. do not fret?) because the next two days are packed with delights.
What is Videoranch3D?
A good desciption comes from a
Jane Smiley Huffington Post article
from 2007 who interviewed Victoria Kennedy, Videoranch inventor (along with her husband, Michael Nesmith):
"Videoranch 3D is a virtual environment on the internet that hosts live performances at various virtual venues inside the Ranch. It looks and feels very much like a videogame, but there is no game quest -- it is a purely social and cultural environment with various venues where live real time events are held. The events we hold in the virtual world include live concerts, lectures, and classes, real time movie screenings, live DJs dances, (and starting with me, Jane) live author's readings and book signings. We video the events real time in our studio in Monterey and stream the live video image real time into the virtual environment.

The audiences of these live events are represented in the virtual environment as avatars. The user controls the avatars with the arrow keys on the computer keyboard. This allows them to move around the virtual environment as they wish, explore, and meet other users' avatars.

The video performers are able to see the virtual audience of avatars and interact with them live in real time.
At present, due to technical limits, Videoranch 3D is a subscription-based, invitation-only, private club.
Also, Videoranch 3D will not work on a Mac, on dial-up, an out of date computer, or an out of date video card. Videoranch 3D only works on a good Windows PC with broadband connection to the Internet."
VideoRanch looks a lot like Active Worlds because it is in fact built on the Active Worlds software base but the concerts are not like Second Life where musicians are pupeteered and animated through the in world devices. The "video" part of Video Ranch comes from a unique blend of real live video of the music performances blended onto the in world stage. It's a little hard to see from my image below, but there on the stage are live video images of the musicians. This is certainly one of those you have to see it first hand experiences.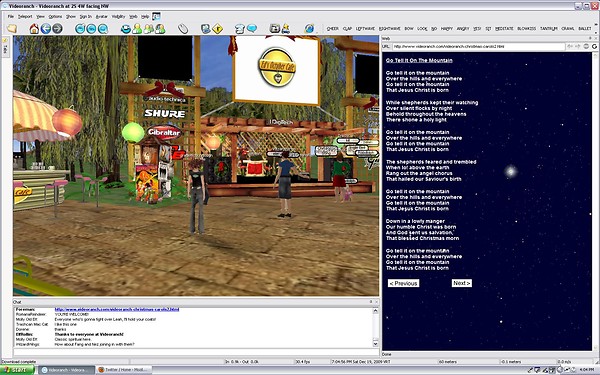 How do I get there?
If you've ventured into any virtual worlds and especially ActiveWorlds, VideoRanch 3D won't be difficult for you to master.
To attend the show, you need broadband access and Windows. There is no Mac version at this time but if you don't have Windows or you're on an older computer you can watch the live feed here http://www.videoranch3d.com/livenow.html
Go to
http://www.videoranch3d.com
Click on "Visit Videoranch 3D"
Choose a Name and Password
Register
Download and install Videoranch3D
Log in
That's all there is to it!
Once inside Videoranch3D, you can move around, dance, cheer, see, chat with and meet other members of the audience. It's easy, fun and there are plenty of live people in world standing by to help you. I may be around for the
A Fine Frenzy show
so look me up, I am gracemcdunnough.
Peace, art and music ~ Grace
Grace McDunnough on
Koinup
Phasing Grace
Follow Grace on
twitter
UPDATE: A Fine Frenzy sounded great this morning! I grabbed a snapshot so you could see what they looked like on stage. And oh, and if you are wondering why there are so many flamingo avatars, that's a VR3D social norm for "standing ovation". Otherwise known as a mingo mosh. ^.~